Custom Intellectual Property Folders
Intellectual Property Folders (Patent Application, Foreign Patent and U.S. Trademark) allow you to file and organize patent and trademark applications quick and easily. Customizing these folders to fit within your firm's specific process allows you to save time on intellectual property filings.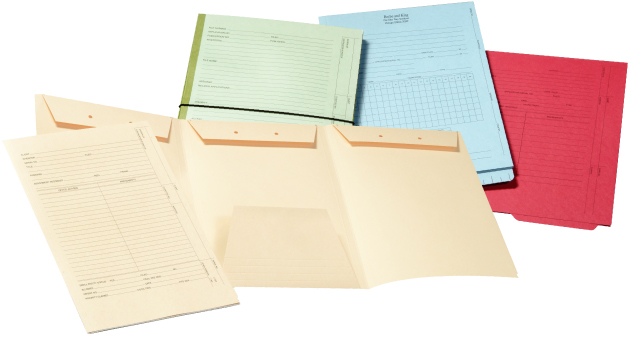 Already have a file?
We can match your current file exactly, plus suggest cost saving alternatives that will allow you to spend less without reducing or changing the efficiency of your file. We are a true partner here to assist you in designing or redesigning your files to meet your specific needs.
Most Popular Options Available For Custom IP Folders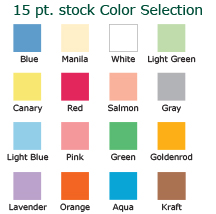 Layout Options
Choose from 16 colors of recycled, 10% PCW 15 pt. stock
Custom size to fit file contents and storage system
Bi-fold and tri-fold layouts
Side and top flaps secure your documents
Flexible end tabs allow for different filing methods — from drawer to shelf to storage boxes
Include thumb cut pockets to secure materials, adding an expansion will allow for easy access
Printing Options
Personalized with firm logo/name
Printed with forms on any panel! Choose from most popular standard forms or provide your own
Print or emboss label guides directly on end tabs for convenient shelf filing label alignment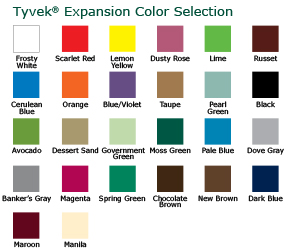 Expansion Options
Add scores to manila expansions for more flexibility
Tough and durable Tyvek® expansions are 4 times stronger than manila expansions with these added benefits:

½" to 5" tear-resistant expansions available
26 colors perfect for color coded filing systems
Other Options
Add embedded fasteners
Order drilled to add fasteners only when needed
Consider an elastic closure for a more secure closure
Add vinyl pockets — business card, CD/DVD or document sizes available for all your needs
Call Customer Care at 800.222.0510 with questions or specifications for a quote.
Already have a custom file? Send us a sample to get a quote.